It's the second installment of our MCU tourist series and I'm really excited for this one, because we're exploring locations you can visit from the film Captain America: The First Avenger. If you're brand new here, to celebrate the release of the incredible Avengers: Endgame, we're taking a nostalgic look back at the films through travel. Captain America, aka Steve Rogers, is one of my favorite ever Marvel characters, and The First Avenger is his origin story and his first outing (and one of his best appearances in the MCU).
Despite being America's hero, the first Captain America, starring Chris Evans in the titular role, was principally shot in the UK, with Manchester, Liverpool, and London playing the part of Brooklyn in the 1940s. So, if you're travelling to the UK anytime soon, you can walk the footsteps of the star-spangled hero himself at these locations.
Please note: I am a participant in affiliate programs, including the Amazon Services LLC Associates Program. This page may include affiliate links that will take you to an external website. Any purchase you make after clicking on one of these links will earn me a small commission at not a cent of extra cost to you. Concerned? Need to know more? No problems. Head to my Privacy Policy and Affiliate Disclosure for more information.
Hackney Empire Theatre, East London
Cinema in Brooklyn
The scene at the beginning of the film where Steve Rogers was sitting in the cinema calling out the loudmouth during the newsreel was filmed at Hackney Empire Theatre, an historic concert hall built in 1901.
This is also the location used for the theatre where Captain America appears onstage (looking awkward AF) with dancing girls.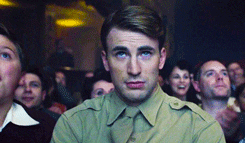 As well as serving as the setting for movies such as Fairy Tale: A True Story and Velvet Goldmine, the Hackney Empire Theatre once housed legends Stan Laurel and Charlie Chaplain before their big break in Hollywood. In fact, it was used in the film Chaplain starring Chris Evans' fellow MCU alumni, Robert Downey Jr.
The Hackney Empire Theatre located in London's East End is a beautiful playhouse, recently restored and serving as a variety theatre for opera, comedy, cabaret, musicals, workshops and youth projects among other acts. Visit the Hackney Empire website to support the theatre or book tickets to a show.
Black Park, Buckinghamshire
Camp Lehigh (Army Training Camp)
The US Army training facility where Steve Rogers did his boot camp (before he became a super soldier) was actually Black Park, a country park in Buckinghamshire spanning over 500 acres of forest, heath, expansive lake and open space.
Possibly because it backs right onto Pinewood Film Studios (where other scenes from Captain America were filmed), Black Park has popularly featured as a film location since the 1950s, where horror films like The Curse of Frankenstein (1957) and The Brides of Dracula (1960) were filmed. More recently, it has been used in several James Bond films like Goldfinger , as well as Sleepy Hollow, Robin Hood, the Harry Potter films and Wombling Free, among many others.
Black Park is a public ground, open seven days a week from 8 am until dusk and admission is free. It has facilities such as cafes, playgrounds, cycling paths and forest trails. For those of us who love fishing, the lake is stocked with a variety of fish including perch, bream and pike.
Northern Quarter, Manchester
Brooklyn Antiques Store and Surrounds
The Northern Quarter in Manchester, on Dale Street between Port Street and Lena Street, was transformed into Brooklyn, where Steve Rogers is taken to be injected with the Super Serum and become Captain America. This area was also used to film Sherlock Holmes.
A trendy precinct of Manchester between Piccadilly and the Ancoats, the North Quarter features boutiques, cafes, restaurants, record shops, and nightlife. I love this article with a full day itinerary for exploring everything the North Quarter has to offer.
Streets of Brooklyn
"New York Street", Universal Studios, North Hollywood
A blink-and-you'll-miss-it scene where Steve chases Super Serum thief Kruger through New York was filmed on New York Street at Universal Studios Hollywood.
This impressive back lot has been constructed to look just like a real street in New York City and you can visit it as part of the Studio Tour. As well as visiting New York Street (which has been the setting for films like To Kill a Mockingbird, Dirty Harry, The Blues Brothers, The Prestige and The Amazing Spider Man), you can also visit sets from Jurassic Park, Jaws and Psycho. It's a must do if you're visiting Universal Studios.
The tour runs for about an hour and is hosted by The Tonight Show's Jimmy Fallon. A combination studio tour and general admission ticket for Universal Studios Hollywood can be purchased here.
Titanic Hotel, Stanley Dock, Liverpool
Brooklyn Waterfront
Stanley Dock at Liverpool is used in the scene where Steve Rogers catches up to Kruger on the Brooklyn Waterfront. This was also featured in Sherlock Holmes and the TV series Peaky Blinders.
To transform Liverpool into New York for the five day shoot, it took about a month of preparation to re-flag the red brick building with York stone. The world heritage listed Stanley Dock was constructed in 1901 and is the world's largest red brick building with a floor area of a massive 37 acres.
Currently being transformed into an urban living space while preserving its Edwardian vintage charm, Stanley Dock boasts a bar and grill, apartment living, a maritime academy and the unique Titanic Hotel, combining a mix of historic heritage-listed architecture and a unique modern vibe.
To stay at the Titanic Hotel costs upwards of $150 AUD per room per night.
Bourne Wood, Farnham
The Army Base for Cap's First Solo Mission
The pub where Captain America shares a beer with his comrades is now called Crocker's Folly, though at the time it had been closed and abandoned before being used as the location for filming this scene.
An historic establishment, Crocker's Folly was built in the mid 1890s by a businessman, Frank Crocker, under the name the Crown Hotel. Crocker thought he'd landed on a winner after learning that a new terminus for Grand Central Railway was to pop up in his local St John's Wood. His grand plan was to cash in on the sure increase in foot traffic to the area by opening his own hotel.
Certain his pub would be a roaring hit, Frank Crocker splashed out to furnish his hotel ornately in order to draw in the influx of passersby. The Crown Hotel was a beautiful, elegant and opulent bar – constructed with wood paneling, gilt beams, cherub statues, Roman pillars, and no less than 50 kinds of marble.
Unfortunately, the Powers That Be changed the route of the railway station, making the terminus a few miles away and so there was no increase in foot traffic to support Crocker's grand venture. It is said that Crocker's ghost still haunts the pub.
In 1987, the pub's name was changed to Crocker's Folly (for the aforementioned reasons) and in 2004 it was placed on the Heritage Buildings 'At Risk' Register after closing. It was closed down and abandoned when it was used as a film location for Captain America: The First Avenger and was purchased soon afterward by the Maroush Group.
Now lovingly restored, Crocker's Folly is a lavish bar and gastropub serving fine cuisine in its ornate Victorian saloon. Check out the website for more information on dining and sinking a pint here, just like Cap.
Times Square, New York
When, in a panic, Steve wakes up in modern day New York after being literally frozen for 70 years, he wakes up and runs into the streets of Times Square, New York where he is confronted by Nick Fury.
The iconic junction in Midtown Manhattan is arguably one of New York's most well known landmarks and tourist destinations, filled with flashing neon lights, yellow taxis, and popular retailers. It has been a shooting location for countless movies in the past.
Times Square is definitely a must do on my bucket list, and not just because Captain America was filmed here.
I love this post by Jessie on a Journey, giving a local's rundown on the best things to do in Times Square.
If you're a fellow Captain America fan travelling in the UK or in parts of California and New York, be sure to mark these spots on your itinerary to bring your favorite scenes from The First Avenger to life. Don't forget to check back soon for the next installment in our Marvel Tourist series.
Shop It!
Travel In Style
Captain America: The First Avenger (2011), directed by Joe Johnston, produced by Kevin Feige, Marvel Studios. Available on DVD and Amazon Prime
Pin it!
If this article inspired your travels, we'd love you to share it! Hover the image below to pin it to your bucket list board on Pinterest!