This was Walt Disney Parks & Resorts Chairman Bob Chapek's announcement as he kicked off the Walt Disney Parks & Resorts panel at D23 Expo Japan, a bi-annual expo held by Disney's official fan club.
From a historic new ride planned for Disney World to groundbreaking immersive lands, there are a lot of new attractions planned for Disney parks worldwide.
"We are hard at work creating even more ways to experience Disney magic at our parks and resorts around the world," Chapek said. "And with our incredible library of beloved stories and characters, we know exciting adventures and magical memories are in store for all our guests."
However, for die-hard Disney purists, there is comparatively little "Disney" magic in the headlines. Most of the upcoming plans involve more Marvel and Star Wars IP attractions over the coming months and years.
Reactions to this fact are decidedly polarising. If you are a Disney purist, you are sure to feel a twinge of sadness about this. If you are a general theme park goer and a Star Wars and Marvel fan, it's pretty exciting stuff. In fact, it's reason enough to start planning that once-in-a-lifetime Disney trip.
Affiliate Disclosure: Please note, this post may contain affiliate links. Any purchases made through clicking on these links will earn us a small commission at not a cent of extra cost to you. Affiliate links are part of our business model and help keep this site alive. Got concerns? Check out our Privacy Policy and Affiliate Disclosure for more information. Thank you for your support.
The Disney Stuff
Disneyland Resort: Pixar Fest
Pixar Fest will start at DCA on 13 April 2018. This will include the return of Paint the Night (yay!). A float featuring The Incredibles (whose new movie opens 15 June) will replace the Frozen float.
Disney's Pixar Pier will not open with the commencement of Pixar Fest. It is instead slated to open much later on 23 June 2018. The much-awaited Incredicoaster also set to open that day just in time for their new movie.
Walt Disney World: Mickey's (Finally) Getting His Own Ride at Hollywood Studios
Mickey Mouse is finally getting his first ever ride, Mickey & Minnie's Runaway Railway, at Hollywood Studios, Walt Disney World. The ride, which opens in 2019, is said to feature a new story themed around the Mickey Mouse cartoon shorts. In the ride, guests will get to step into a Mickey Mouse short. As a tidbit, Imagineer Kevin Rafferty said the ride will include more hidden Mickeys than any other attraction in the universe.
Walt Disney World: 50th Birthday Celebrations
Walt Disney World is turning 50 (!!!) in 2021 and plans for a suitably spectacular celebration are already underway with a special birthday upgrade planned for Epcot. Epcot will get a Ratatouille-themed attraction in the French pavilion. This will be similar to the one at Disneyland Paris. There is also a Mission: SPACE attraction planned, with an adjacent restaurant where guests will dine high above the earth.
In response to TRON being the highest-rated attraction at Shanghai Disneyland, TRON Light Cycle Power Run will be opening at Magic Kingdom, Walt Disney World in time for its 50th birthday celebration, located in an area near Space Mountain. Yay!!!!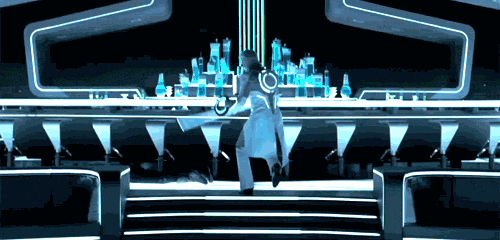 Tokyo Disney: Expansions
Tokyo Disney is currently undergoing some huge expansions to its Fantasyland, Tomorrowland and Toontown lands, as well as to its second park, Disney Sea. Tomorrowland will feature the first-ever Big Hero 6 attraction. The Fantasyland expansion will include an entirely new area dedicated to Beauty and the Beast. Finally, Minnie Mouse will be getting a design studio in Toontown. Over at Disney Sea, a new Soarin'-style attraction is set to open. The construction is currently underway with the new areas set to open in 2020.
Despite rumors of a third Disney park, Disney Sky, circulating the internet recently, no such expansions were mentioned or hinted at.
Disney Cruise Line: Fleet Expansion
Though we already know that two new ships for the Disney Cruise Line are under construction, Chapek indicated that a third is planned as well. This will essentially double the size of their existing fleet. "We decided two ships wouldn't be enough to hold all of the exciting new experiences we have been dreaming up to take family cruise vacations to a whole new level with immersive Disney storytelling, world-class family entertainment, and imaginative innovations that are fantastically fun and uniquely Disney," said Chapek.
The new ships are scheduled for completion in 2021 and 2023 and will be slightly larger than the existing ships at approximately 135,000 gross tonnes. Each ship is planned to contain about 1,250 guest staterooms. Design plans, ship names and itineraries are still under discussion, according to Disney Parks and Travel.
The Marvel and Star Wars Stuff
Walt Disney World Resort: An Innovative Star Wars Themed Hotel to Open
More details have been revealed regarding the new Star Wars resort set to open at Walt Disney World. This luxury resort will feature an innovative complete Star Wars story immersion experience where guests will be able to gaze out into space. "From the second you arrive you'll be part of the Star Wars story," said Chapek. "You'll immediately become a citizen of the galaxy and experience all that entails, including dressing up in the proper attire. Once you leave Earth, you will discover a starship alive with characters, stories, and adventures that unfold all around you. It is 100-percent immersive, and the story will touch every single minute of your day—and it will culminate in a unique journey for every person who visits."
Whilst Chapek described a seamless connection to the Star Wars: Galaxy's Edge land at Hollywood Studios (more below), it was reportedly unclear whether he was referring to the design concept or the location of the hotel, though one would have thought the latter would make more sense.
Disneyland & Walt Disney World: Star Wars: Galaxy's Edge
We have more news on Star Wars: Galaxy's Edge, opening both at Disneyland and Walt Disney World. The lands will be interactive and immersive, with Walt Disney Imagineer Scott Trowbridge saying "This is a living place where your choices matter".
It will include a full sized fleet of X-Wing Star Fighters as well as a life size Millennium Falcon (be still, my heart)! The land will feature two attractions. In the first, guests will ride a Star Destroyer in a battle between the First Order and the Resistance. In the second…. we get to ride the Millennium Falcon (I… I'm just so excited I can't even process this and we're not even currently planning a trip).
Both lands will open in 2019, with Chapek hinting that Galaxy's Edge at Disneyland will be the first to open.
Walt Disney World: A New Guardians of the Galaxy Ride at Epcot
A new Guardians of the Galaxy ride, featuring Star Lord, will be opening at Epcot, Walt Disney World. The ride will be one of the longest enclosed roller coasters in the world. "The Guardians of the Galaxy inspired coaster is part of our ongoing work to transform Epcot into a place that's more family, more relevant, more timeless and more Disney," Chapek said.
Disneyland Paris: Retheme of Rock N Rollercoaster
The Rock N Rollercoaster at Disneyland Paris is set to be re-themed into a ride featuring Iron Man and the Avengers. This comes as part of a plan to invest $2 billion in 10 years at Disneyland Paris, with the main expenditures being on Marvel attractions and accommodation.
Disneyland Paris: Retheme of Disney's Hotel New York
In more news out of Paris, the Hotel New York is set to be rethemed into The Art of Marvel Hotel, opening in 2020. The hotel will feature comic art and superhero costumes, among other things. And yet more Marvel is in store for Disneyland Paris with the Marvel characters arriving in June for Marvel Summer of Superheroes.
Hong Kong Disneyland: Ant Man and the Wasp Are Coming
The now closed Buzz Lightyear Astro Blasters attraction is being re-themed into an Ant Man ride. Guests team up with Ant Man and the Wasp to fight Arnim Zola and the Hydra swarm bots. Whilst no open date was specified, it is slated to open sometime in 2018. Hong Kong Disneyland is currently undergoing several developments. The castle is getting a facelift and there will be a new Frozen area. Additionally, we can expect a stronger presence of Marvel at Tomorrowland.
With an exciting blend of additions to the parks, we can't wait to see how it all turns out. We are hopeful that the new theming will delight parkgoers for years to come.
Sources
Every Disney Parks Announcement that Happened at D23 Japan – Oh My Disney
Breaking News About Disney Parks and Resorts From D23 Expo – D23
Announcements from D23 Expo Japan – Disney Tourist Blog
12 Amazing Announcements from the Walt Disney Parks and Resorts Presentation at D23 Expo – D23
Ant-Man Attraction Confirmed for Hong Kong Disneyland – TDR Explorer
Disney Cruise Line Announces Two New Ships – Disney Parks & Travel