Your accommodation's booked, your tickets are bought, and the countdown is on for your trip. But before you venture off to Disneyland, there's just one more thing you need to do first – brush up on your Disney movies.
Yes, we know firsthand. Planning your trip to Disneyland is kind of a lot (and if you need help with that, we have a fantastic first timer's guide to check out here). All that planning can be a little stressful. Our favourite way to unwind is relaxing with a movie marathon. There's no better way to build anticipation for a Disney trip than by re-watching the classics and discovering new favourites, so we've compiled the ultimate list of movies you need to watch before your trip.
Disney goes above and beyond in bringing their animated classics to life with spectacularly recreated sets, characters, and theming, and watching the movies beforehand adds an extra magical dimension to the experience.
Whilst we know you'll love it whether you're a diehard Disney fan or not, there are so many hidden Mickeys and Easter eggs at Disneyland that the more you appreciate the films, the more you will appreciate the park. We recommend starting off with the bare necessities, and the Fantasyland movies, and going from there. If you're feeling extra adventurous and want to delve deep down the Disney rabbit hole for a truly immersive experience, we've included a few extra titles as "extra credit".
Affiliate Disclosure: We are participants in affiliate programs, including the Amazon Services LLC Associates Program. This page may include affiliate links that will take you to an external website. Any purchase you make after clicking on one of these links will earn us a small commission at not a cent of extra cost to you. Concerned? Need to know more? No problems. Head to my Privacy Policy and Affiliate Disclosure for more information.
Disneyland
The Bare Necessities/Main Street
1. Old Mickey Mouse Shorts | Remember, it all began with Mickey Mouse. Fall in love all over again with the adorable mouse and rediscover your childhood by watching the original classic short cartoons. Featuring Mickey, Minnie, Donald, Goofy, Pluto, Daisy and Chip N Dale, these cartoons are as sure to delight you now as they were in your childhood years. Having some prior knowledge of these characters is kind of essential to your experience as the Fab Five features heavily in the parks, especially Mickey. Main Street Cinema showcases the original short Mickey movies, especially Steamboat Willie, which premiered in 1928. I also recommend Fun and Fancy Free, which features the Fab Five in the short Mickey and the Beanstalk.
2. Walt: The Man Behind the Myth | Currently featuring on Netflix, Walt: The Man Behind the Myth features footage and interviews with imagineers and Disney family members to tell the incredible story of Walt Disney's life and creative genius which led to the creation of Disneyland.
3. Fantasia | The night time spectacular show, Fantasmic, is based on Walt Disney's Fantasia, an ambitious project by Walt Disney combining visually stunning animation with breathtaking classical music. In particular, The Sorcerer's Apprentice features Mickey Mouse as the apprentice, or Sorcerer Mickey, who gets himself into a spot of bother with his magic powers. This is the central motif behind Fantasmic and Sorcerer Mickey makes a lot of appearances in the parks.
4. Saving Mr Banks | Apart from the fact that Tom Hanks playing Walt Disney is utter magic, Saving Mr Banks not only gives a glimpse into life in the era of Walt Disney, but also captures the magic of Disney and Los Angeles in a golden age and was partly filmed at Disneyland. Every time I watch it even to this day I get nostalgic for Disneyland.
** extra credit **
5. Mary Poppins | Because it's a Jolly Holiday with Mary! Whilst there aren't a lot of attractions with Mary Poppins, per se, we saw a lot of Mary and Bert walking around the parks and they featured in Mickey's Soundsational Parade. I also feel like Mary Poppins was a film which meant a great deal to Disney in many ways. Feed the Birds was his favourite song – not just his favourite song from Mary Poppins or Disney, but his favourite song of life.
Fantasyland
6. Sleeping Beauty | The famous Disneyland castle is actually Sleeping Beauty's Castle (the castles at Disney World and Tokyo Disney belong to Cinderella). As you walk through the castle, you can take a tour of Sleeping Beauty's story. You also get to interact with Aurora in character meet and greets and she features in Mickey's Soundsational Parade. Maleficent is also a character meet and greet, especially around Halloween.
7. Snow White | Snow White and the Seven Dwarfs was Walt Disney's first animated feature film. Snow White's Grotto is a feature at Disneyland near Sleeping Beauty's Castle. The attraction Snow White's Scary Adventure also features in Fantasyland. You can meet Snow White through character meet and greets, and see her on the princess float during Mickey's Soundsational Parade.
8. The Adventures of Ichabod & Mr Toad | I feel like this Disney anthology movie is a hugely underrated early classic. It features two tales: that of Ichabod Crane and his fateful interaction with the Headless Horseman in Sleepy Hollow, and a rendering of Wind in the Willows through the story of the impulsive Mr Toad, who is kind of a disaster. My sister and I loved it as kids and to this day crack up when we watch it. That aside, it gives useful back story behind the attraction Mr Toad's Wild Ride, a dark roller coaster ride which features exclusively at Disneyland Anaheim's Fantasyland.
9. Peter Pan | Tinkerbell, Peter Pan's mischievous fairy companion, is a key player at Disneyland, particularly her flight over Sleeping Beauty's Castle at night to kick off the Disneyland Forever fireworks display. Peter and Tink are a busy pair at Disneyland, because Peter Pan also features in Fantasmic. Aside from meeting Peter Pan and Tinkerbell through character meet and greets, Fantasyland also features the attraction Peter Pan's Flight.
10. Dumbo | Dumbo is not only a beloved family classic, but references to him can be found at Disneyland through Casey Jr's Train and also, of course, the iconic Dumbo Flying Elephant ride at Fantasyland.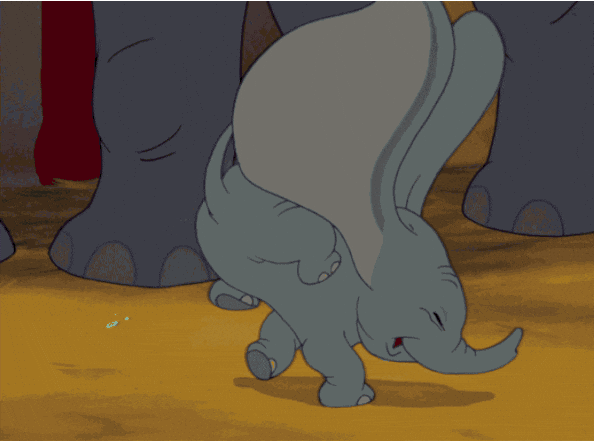 11. Alice in Wonderland | Riding the teacups on the Mad Hatter's Tea Party ride was one of the highlights of my day at Disneyland! Alice and the Mad Hatter also wander Disneyland for character meet and greets.
12. Pinocchio | This one gets a mention on the back of its classic theme song, When You Wish Upon a Star, alone. It's a song that has kind of become synonymous with Disney, played not only at the beginning of Disney films, but also featuring at the parks during the fireworks display and World of Colour. During the Storybook Land Canal Boats, you'll float through the mouth of Monstro the whale. You can also ride Pinocchio's Daring Journey at Fantasyland.
** extra credit **
13. Third Man on the Mountain | For the diehards out there, Walt Disney filmed this live action movie in Switzerland in 1955 and his love for the Matterhorn became the inspiration for the bobsled coaster ride at Fantasyland.
Toontown
14. Who Framed Roger Rabbit | A must watch for any Disney fan because it features a multitude of Disney characters, including Donald Duck, the penguins from Mary Poppins, Mickey Mouse, Dumbo, and "half the cast of Fantasia", amongst others. Roger Rabbit and his friends Jessica Rabbit and Baby Herman have become honorary Disney characters over the years and have their own land at Toontown, where they feature in the attraction Roger Rabbit's Cartoon Spin.
Frontierland
** extra credit **
15. Davy Crockett & the River Pirates | I used to love this live action film as a kid. It was hugely popular in 1956 and had its own ride in Disneyland's early years, the Mike Fink River Boats. You can still see one of the original river boats whilst exploring the Rivers of America attraction, one of Greg's favourite parts of Disneyland.
New Orleans Square
16. Pirates of the Caribbean: Curse of the Black Pearl | Though it's one of those cases where the ride predates and inspires the movie, rather than the other way around, any excuse will do to watch arguably still the best film in the POTC franchise. When you're there, you'll see the parts of the ride that inspired the movie, and the ride has since been re-themed to include Jack Sparrow (side note: Johnny Depp from time to time replaces his animatronic counterpart on the ride and surprises guests. The animatronics are so well done, however, that people have been known not to even notice).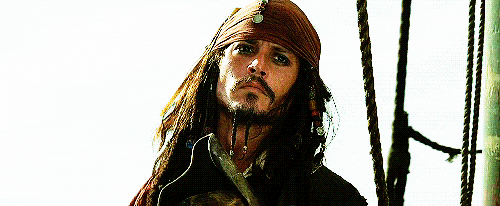 ** extra credit **
17. Princess & the Frog | Whilst one of my favourite Disney princesses, Tiana, hasn't been given her own attraction at New Orleans Square (yet!), you will see her in Mickey's Soundsational Parade, wandering around New Orleans Square, or riding the Mark Twain Riverboat.
18. Haunted Mansion | This 2004 Eddie Murphy movie was actually based on the ride rather than the other way around. You don't need to see the movie to appreciate the ride at all – but it's still fun to watch before hand.
19. Nightmare Before Christmas | The Haunted Mansion undergoes a special re-theme for Halloween and features elements from The Nightmare Before Christmas as part of the ride. You will also see Jack Skellington and Sally wandering New Orleans Square at this time. It's particularly worth a watch if you're visiting Disneyland during Halloween.
Critter Country
20. The Many Adventures of Winnie the Pooh | This movie's storyline forms the basis for the ride in Critter Country of the same name. Rabbit's veggie patch and Pooh's hunny pots also feature at Critter Country.
Adventureland
21. Swiss Family Robinson | Before it was rethemed into Tarzan's Treehouse, the popular Adventureland attraction was the Swiss Family Robinson's Treehouse. This was one of my favourite live action Disney movies in childhood and whilst the Robinsons lost the naming rights, a lot of their memorabilia still remains in the tree house.
22. Tarzan | The treehouse in Adventureland was rethemed to coincide with the release of Disney's 1999 animated adaptation of Tarzan. It takes about 10 minutes to walk through and there's rarely a big line (except when we went, so we passed on it). You can interact with the attraction as you climb, and when you get to the top you'll get an exclusive bird's eye view of Disneyland.
23. Raiders of the Lost Ark | As a long time Indiana Jones fan, I hardly need an excuse to get reacquainted with Raiders of the Lost Ark, but you'll especially want to brush up on it before you head to Disneyland. Adventureland features the attraction Indiana Jones and the Temple of the Forbidden Eye, and part of the ride's theming includes props from the actual film.
** extra credit **
24. The African Queen | It's not a Disney movie, but this beautiful 1951 classic starring Katherine Hepburn and Humphrey Bogart was used as inspiration during the design of the Jungle Cruise – one of our underrated favourite attractions at Disneyland.
Tomorrowland
25. Finding Nemo | Watch this one before riding Tomorrowland's Finding Nemo Submarine Voyage attraction, which used to be the 20,000 Leagues Under the Sea submarine attraction.
Galaxy's Edge
26. Star Wars: A New Hope | Whilst, as a biased Star Wars fan, I would ideally recommend at least watching Episodes I through XI first, I realise this is a bit much for those of us who aren't really "into" Star Wars, so A New Hope is a great place to start (and my personal favourite). Disneyland's brand new Star Wars themed land, Galaxy's Edge, takes place somewhere between The Last Jedi and Episode IX, but the entire franchise features in the parks in various forms. At Tomorrowland, you can experience Star Tours and meet and greet with various beloved characters.
Disney's California Adventure
Buena Vista Street
** extra credit **
27. Oswald the Lucky Rabbit Shorts | Believe it or not, whilst Mickey Mouse was the love of Disney's life, he wasn't his first. Walt created Oswald the Lucky Rabbit first, and lost him to NBC Universal after Disney had a falling out with them. Soon after this he created Mickey Mouse. Quite recently, Disney reacquired Oswald in a negotiation with Universal and now he's back home where he belongs. You'll see references to Oswald throughout Universal Street and if you're lucky, you'll even see Oswald walking around meeting and greeting with guests. Although he's not as well known, Oswald is Disney's prodigal toon, and a part of Disney history.
Hollywood Land
28. Frozen | These beloved princesses feature are an easy crowd favourite. The Hyperion Theatre is playing a live action Broadway-style Frozen musical that is a must see for any fan of the film.
29. Monsters Inc | Mike and Sully to the Rescue is a popular attraction at Hollywood Land at Disney California Adventure. The monstrous pair also features in the Paint the Night parade at Disneyland and in the Pixar Parade at California Adventure.
30. Beauty and the Beast | You can explore the Beast's magical library as part of the Animation Building off Hollywood Boulevard at DCA. Belle, the Beast, and Gaston are also popular meet and greet characters in the parks and Belle features in Mickey's Soundsational Parade.
31 & 32. Guardians of the Galaxy & Vol 2| Whether you're into Marvel's Avengers movies or not, the Guardians of the Galaxy films in their own right are always worth a watch. Funny, entertaining, a stellar cast (pun intended) and a killer soundtrack, they're my favourites of all the Marvel films. One of California Adventure's newer and most popular attractions, Guardians of the Galaxy: Mission Breakout is said to be incredible. The re-theming replaced the beloved Twilight Zone: Tower of Terror ride (which is still in action at other Disney parks). Starlord, Gamora and the other Guardians also meet and greet guests.
Radiator Springs
33. Cars | Of all Disneyland Resort's sensational themed areas, Radiator Springs at California Adventure is possibly my favourite. The theming is next level and brings the animated feature to life. Whilst you'll appreciate it in any event, after seeing Cars it will blow your mind. You can eat at Flo's V8 Cafe and race through a painstakingly recreated Monument Valley.
Paradise Gardens
34. The Little Mermaid | Okay, so Ariel may be my all time favourite princess, and her attraction at Paradise Gardens doesn't disappoint. Ariel's Undersea Adventure is a dark train ride which re-explores the storyline of the Little Mermaid and brings it to life with animatronics and its classic soundtrack. If you're lucky, you'll also get to meet Ariel and see her during Mickey's Soundsational Parade.
35. Silly Symphonies | Whilst you'll find many references to these 75 beautiful early animated shorts throughout the parks, including the Three Little Pigs, the Silly Symphonies Swings is an attraction at Paradise Gardens. These films are an important piece of Disney history, helping to establish Disney's popularity and create the Disney empire.
Grizzly Peak
** extra credit **
36. Brother Bear | Whilst you don't really need to have seen any Disney movie to appreciate Grizzly Peak, designed to look like a Californian National Park circa 1950s, Brother Bear was the inspiration behind the theming to the Redwood Creek Challenge.
37. Up | References to Up are also found in the Redwood Creek Challenge, particularly the Wilderness Explorers, the scout association in the film.
Pixar Pier
38 & 39. The Incredibles & The Incredibles II | These popular animated superhero movies are a large inspiration behind Disney's brand new Pixar Pier, especially the Incredicoaster, which was re-themed from the California Screamin' coaster. You can also meet the characters on Pixar Pier.
40. Toy Story | To infinity and beyond! Arguably Pixar's most beloved characters, Buzz and Woody are also popular in the parks. At Tomorrowland you can find them at the Buzz Lightyear Astro Blasters, and at Pixar Pier, Toy Story's Midway Mania is an entertaining (and very popular) attraction. Buzz and Woody are also available for character meet and greets.
So there you have it! Our Ultimate Guide to 40 Movies to Watch Before Going to Disneyland. Whether you're a lifelong Disney fan building anticipation for your trip, or whether you're just tagging along for the ride and looking to get a working knowledge of Disney before you go, we think that watching a few Disney classics before you go will add an extra magical dimension to your trip. And hey, at the very least they'll help make the plane ride more enjoyable.
There are probably so many more we've left out and it's by far not a comprehensive list of all Disney's amazing features, but we've tried to choose the ones that feature most strongly at Disneyland. If we've left anything off, let us know in the comments below what should be added!
Happy viewing!