I have legitimately dreamed of experiencing a white Christmas since I was a little girl. A Christmas where it was cold and I could wear terrible Christmas jumpers and eat a hot roast dinner inside the house without someone at least once interrupting a meal to frantically urge me to "Shoo that fly, will you?" because, in Australia, it's too stinking hot to sit inside, so you're usually sitting outside eating cold ham and salad and the combination brings flies. Flies everywhere.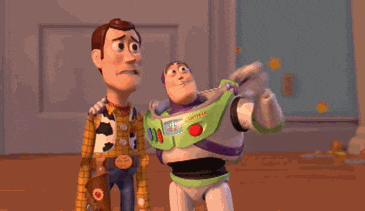 Now, don't get me wrong, I am proud of and love my Aussie Christmas traditions. However, like most Aussies I always wondered what it would be like to experience the more "traditional" northern hemisphere white Christmas. Enter Movie World's annual White Christmas event. We'd heard about it but we'd never before experienced it for ourselves. So, we decided to treat ourselves to a little extra Christmas magic this year.
What's White Christmas like? Is it "worth it"? Is there real snow? What's included? We grabbed my sister, our nephew, 5 and our niece, 2, and set off to find out.
Affiliate Disclosure: Please note, this post may contain affiliate links. Any purchases made through clicking on these links will earn us a small commission at not a cent of extra cost to you. Affiliate links are part of our business model and help keep this site alive. Got concerns? Check out our Privacy Policy and Affiliate Disclosure for more information. Thank you for your support.
How much does it cost?
Ticketing this year was a little confusing. Firstly, we'd heard in years gone by that the VIP passes included one entry to White Christmas. Plus, a friend said that his annual pass included White Christmas, so we assumed ours would too. In the online community, the buzz was even more confusing. Some people said their ticket included White Christmas and others said it didn't. Some argued that in years gone by it had been free. Others countered that in years gone by it was offered at a discount for VIP ticket holders.
To get some clarity, I made a call to Village Roadshow. The first man I spoke to told me that some VIP passes were more VIP than others. As I had purchased through Groupon instead of directly through the parks, my VIP pass didn't entitle me to free entry.
I called Village Roadshow back, wondering if it would instead be offered at a discounted price. I spoke to another lady who told me that the last gentleman I had spoken to was mistaken and that no VIP pass included White Christmas entry. And no, it was not offered at a discounted price for VIP passholders.
This year, the cost of the ticket was $40 per person. (Note: Free entry into one White Christmas event is now included with the Village Roadshow One Pass). Yay!
The Entertainment
The price includes entry into the White Christmas event from 5 pm until 8:30 pm. There's a Santa's Grotto, a fairy garden, Looney Tunes characters walking around in their Christmas finery (Bugs Bunny was in his pajamas at one point, for some reason), Rudolph the Red-Nosed Reindeer in 4D screening at the Roxy Theatre. There are also lots of friendly, delightful Christmas elves. They went out of their way to interact with the kids and make them feel special. To me, they were the stars of the show.
In the center of the park, there's an "awkward family photo booth". For a gold coin donation you can don a terrible Christmas jumper and take a cringe-worthy family photo. It looked like a stack of fun. If we'd have had more time we would have definitely grabbed one to give to Mum and Dad for Christmas. Next year for sure!
At 8:00 pm there is a Christmas parade. This takes part down Main Street, with beautifully costumed performers, favourite Christmas songs (what Christmas event is complete without Mariah Carey's All I Want For Christmas Is You?), the Looney Tunes, and of course… Santa Claus.
Is there real snow?
Weeeeelll…. no.
After Main Street opens, large fans disperse mist and little flurries of foam that falls like the fluffy magical snowfall in movies. It really depends on your outlook as to whether this is enchanting or disillusioning. If you're like me with all things Christmas: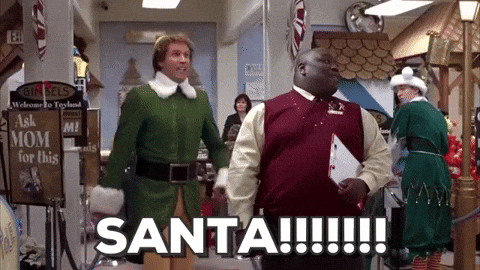 then it's all part of the wonderful festive magic. I loved it. Certainly, the kids didn't really care what it was. They just ran around everywhere trying to catch some. Greg, on the other hand, was like this: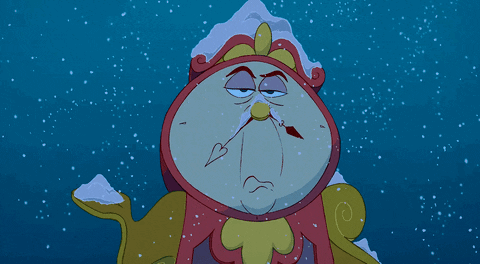 "Shaving foam. It's raining shaving foam on me right now."
Technically though, it is still a "white" Christmas in the strictest sense of the word. Plus, it looks absolutely glorious in photos, especially with the spectacular Christmas lights cascading from the marquee over Main Street. Magic for the kiddies, and delightful for the kids at heart.
The Christmas Buffet
We went about the food situation all wrong. When purchasing your White Christmas ticket, there is an option to also book a roast Christmas buffet at Rick's Cafe. It costs $32 per adult and $18 per child.
Steep, you say. Yes, it is. It's actually also your only real option for a proper feed at the park unless you want snacky things. But with churros costing $4.50 now, a bag of popcorn up around the $12 mark and a hot dog at $10, it's not long before your snackier items add up to the cost of a seat at Rick's.
If you REALLY want the Christmas dining experience at Rick's, book in advance and book the earliest sitting possible. The park is only open for 3 hours past usual opening hours. If you want to do other things besides gorge yourself on roast dinner, you'll find yourself pressed for time. To make your $32 worthwhile, you want at least two plates' worth (if you're anything like us), and you don't want to have to whoof it down and rush along.
Since we didn't pre-book, we couldn't eat at Rick's but walk-ins were offered the same menu for the same price at the less ambient function hall next door. It had none of the atmosphere but was still decorated for Christmas. As long as it stopped our ribs from rattling, who cares where we sat down to eat?
We were only halfway through our first plate each when staff were already trying to clear our plates so they could close. Essentially we'd paid $32 for a plate of Sunday roast we could have had at the local tavern for $12. The cost of food at theme parks does kind of go with the territory though, so it still wasn't too bad. However, I could imagine the cost would add up for families.
The food itself was delicious. Unlike many roast dinners, the amount and quality of veggies on offer was fantastic. As a veggie lover, I ended up filling up mostly on those. There was lovely roast pumpkin, asparagus, broccoli and cauliflower gratin and fresh cold salads. The meat selection included piping hot roast beef and pork and ham, fried chicken and chipolatas. There was something to suit every taste. The dessert bar served a chocolate fondue with plenty of fresh fruit and marshmallows, pavlova and cake and custard. It's a shame that we didn't have more time here. If there was, I feel like I would have got to sample a lot more.
They had Christmas crackers at the table, which was a lovely touch. We all donned our hats, read out terrible jokes and played with the little trinkets. It was just like an actual Christmas dinner without the Moet.
Was the buffet worth it?
Because there's nowhere in the park to grab an early dinner, you are stuck between a rock and a hard place. We had great intentions of eating at Rick's earlier in the day with the usual all you can eat pizza menu, as sort of a late lunch, early dinner, but it all went horribly, horribly wrong because Rick's had closed early to prepare for the White Christmas buffet.
I think we might have had a different experience had we pre-booked an early sitting at Rick's and been more prepared for the fact that the restaurant was going to close earlier in the day, leaving us with few options for eating. It looked like there was a character dining experience at Rick's, which wasn't offered in the hall next door. A peep through the window showed Sylvester and Daffy wandering around saying hello to the diners. The ambiance at Rick's is always lovely too. But would I do the Christmas buffet at Rick's again?
In all honesty, possibly not.
I feel like it swallowed up too much time. It was time which would have been better spent outside experiencing the White Christmas magic. The pricing was steep for what it was, which is a shame because the usual pizza buffet at Rick's is one of my value-for-money tips for Movie World.
My advice is to have dinner at home, or call in to Maccas on your way in. Alternatively, forget about a nutritious meal (hey, you're at a theme park) and spend $32 gorging yourself on snacky foods you can enjoy while walking around the park and soaking up all the atmosphere.
Rudolph the Red-Nosed Reindeer in 4D
Y'all remember the 1964 Rudolph the Red-Nosed Reindeer? I mean, I remember watching it at Christmas as a little kid and loving it. As part of the White Christmas theme at Movie World, the Roxy Theatre is screening an abridged version in 4D.
The kids had loved the Road Runner 4D feature and begged to go see this one. There was a screening playing as we walked past, so we took them in.
It delighted the kids in our party… and kind of horrified us adults.
Rudolph the Red-Nosed Reindeer who nobody likes because of his red nose and gets thrown out of the reindeer games, a Christmas Elf who wants to be a dentist instead and a random man on a bobsled named Yukon Cornelius are afraid of an abominable snowman so they march into his cave, rip out his teeth (!!!) and then push him off a cliff.
I won't go into spoilers, but the short edit, abridged for the sake of not losing an entire hour at a theme park to watch a movie, is a lovely story about exclusion, being terrified of diversity and forcing your traditions on others. I tell ya folks, they just don't make 'em like that anymore. In all seriousness, if you do remember the 1964 version, there is a lot more context to it but they had to condense an hour long movie into a couple of minutes and whilst the original is a sweet little story about accepting others' differences, inclusion and celebrating diversity, the unfortunate result of the edit kind of gives the opposite message.
The 4D effects were cool and delighted the kids, although they were waaaaaaaaaay more subtle and tame than the Road Runner feature, possibly more geared toward appealing to younger families.
Our niece and nephew absolutely loved it. The political implications went way over their heads and they were as delighted by it as I was by the original in my childhood. It was a cute, nostalgic experience for me, but would I call it a must do if you're there sans-kids??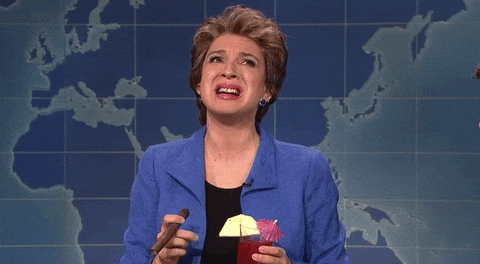 Give it a miss. There are better things to do. If you've got kids, it's watchable and the kids will enjoy it.
What's the Vibe Like?
If you love Christmas, you'll love it. Even if you've never had a white Christmas in your life, there's something about the event that invokes a comforting nostalgia of what it was like as a child to wonder at the magic of Christmas. The actors go out of their way to stir up the atmosphere and their enthusiasm is contagious. The parade was spectacular, the dance routines well orchestrated, the performers were professional, bright and on point and the costumes and props, including the floats, were entertaining.
The beautiful Christmas tree at the front of the park reaches high into the sky and lit up at night is dazzling, and I couldn't help "oohing" and "ahhing" like a child again. Everyone was on the same buzz, laughing and getting caught up in the Christmas spirit.
The Crowd
Honestly… not that bad. Through the day, the park was uncharacteristically quiet and we walked onto all the rides without really waiting in line at all. I felt terribly clever for plotting to beat the insane throngs of people I had seen trying to inch their way from the highway into Movie World in previous years.
My devious plan was that we would go mid-afternoon, do some rides and scoff down a late lunch, early dinner at Rick's Cafe before it closed for the Christmas buffet, which we were hoping to avoid. "Rhiannon, you sly fox!" I thought smugly to myself, having a silent chortle at the poor fools who would have their dinner at home and then madly try to squoosh their way in later.
At first, I found myself delighted by my own genius. Why, there was no one here! We walked onto every ride. We could have photos with whatever character we wanted. Side note: Even if you aren't going to White Christmas itself, visit Movie World on a White Christmas day, when nobody is there because everybody is waiting to come in the late afternoon so they're nice and fresh for White Christmas.
My smugness only grew. I felt like the cat that ate the canary. Nobody else had been as genius as me to think of coming early. Sadly, it all went pear-shaped when we found out that Rick's was closed early to set up for White Christmas. Unless we wanted to sell someone's kidney to buy a burger each, our only option was to try and appease the hangry menfolk in our party with a stop in at the bakery.
The second snag in our plan was that, whilst getting there early meant that we got a park right out the front, the problems started when it came time to leave. We were caught in bumper to bumper traffic. There was a man with flares directing and with a little strategizing outside the box, we were able to get out fairly painlessly.
What was awesome
It's no mean feat to try and provide people with a winter wonderland Christmas experience while they're all literally sticky with sweat from the humid Queensland heat. A few decorations and Christmas lights here and there aren't going to cut the mustard. You need to be very creative in capturing the essence of a white Christmas through atmosphere and this is where Movie World has, I think, done a great job.
From their choice of color scheme and the "snow", to the costumes and the sheer brilliance of the lights, White Christmas is a tribute to the white Christmas we Australians who have never been to the northern hemisphere for Christmas can only dream about.
The character actors were fabulous too, with the elves stealing the show. I was thrilled to see more Looney Tunes walking around than I had seen in recent times. They had a marching band who were absolutely brilliant and had everybody dancing along.
What could be improved
I think the event really could have done with a little more concise, practical guest information. The website is not at all forthcoming with ticketing information, nor does it provide a guide on what to expect on the night, which makes it really tricky to go in with any sort of game plan so you can maximize your experience and plan the short time you have to experience everything wisely.
Tips and what we will do differently next time
Go early and take advantage of the fact that the park is going to be a little less crowded. As an added bonus, you won't get stuck in traffic trying to get there. Just park up the back so you don't get gridlocked later. It's a huge, very stimulating day, so go a little later in the afternoon. Eat a substantial lunch before you go, and then just top up with snacks in the park. As stated above, I wouldn't recommend the Christmas buffet at Rick's.
Do all your rides before the usual opening hours of the park finish. Yes, it's a cool novelty to ride a coaster at night, but unless the lines are short, you're going to have essentially parted with $40 to wait in line just so you can experience the Superman ride in the dark. If you just can't hold off riding the DC Coaster or Green Lantern, veer left instead of right when you re-enter the park and do it instead of waiting for Main Street to open.
Once Main Street is open, make some time to go and get an awkward family photo. It's just a gold coin donation and it makes for a cheesy Christmas card photo to remember. The shrieks of laughter coming from the booth were contagious.
You can go visit Santa's Grotto and get a picture with Santa for more cheesy Christmas goodness. I would definitely recommend spending time on Main Street so you can experience the snow, lights, and Christmas goodness. Treat yourself to a gingerbread latte and a hot dog, and watch the lighting of the giant Christmas tree at 7 pm, then make your way back up Main Street to line up for the parade early.
As we got tangled up at Rick's, we didn't get the opportunity to line up for the parade. We did, however, get a vantage point at the entrance of the parade up at the T-intersection at the end of Main Street. This was still cool, but the dance sequences and snow didn't really get into full swing until they got a bit further down Main Street, so that's where we'd recommend you secure a spot.



Is it worth it?
Definitely. It was an absolutely awesome way to spend a Sunday afternoon and revisit my childhood, and it certainly got me into the Christmas spirit. Armed with a bit more knowledge of what to expect, we will be back next year. And if you grab Village Roadshow's new One Pass, the cost of your ticket is included in the price, anyway, so you'd be mad to miss it.